RESIDUE II

IMMERSIVE INSTALLATION IN MIXED MEDIA
PHOTOGRAPHS, HAND MADE SERIGRAPHS & DRAWINGS
2016

PREVIEW: SOLO PROJECT CRITICAL MEMBRANE, ADVISED BY RANJIT HOSKOTE, EXHIBIT 320, NEW DELHI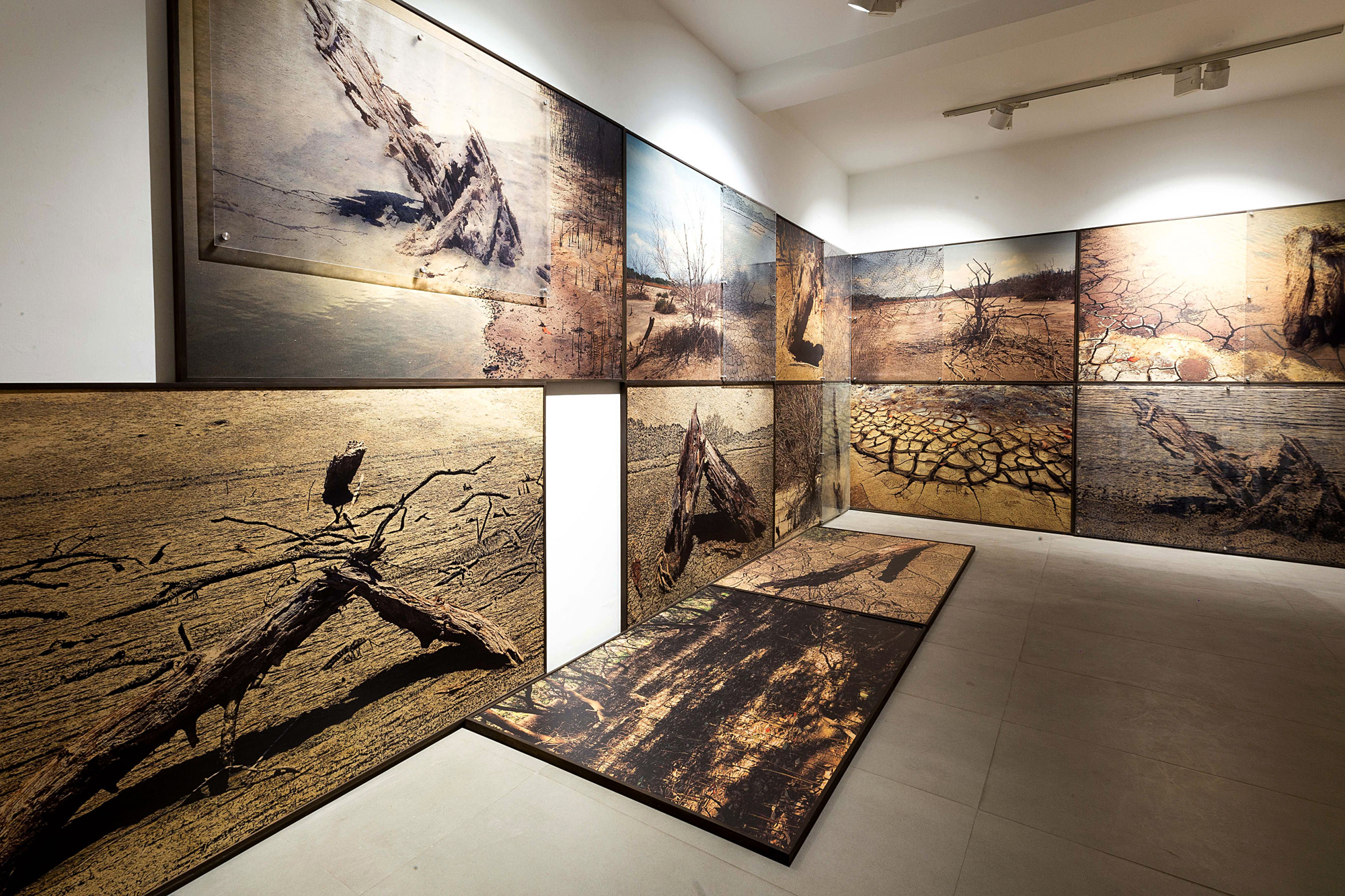 Installation view of Residue II, Exhibit 320, New Delhi
The mangroves provide a preview of the challenges ahead for ecosystems and biodiversity hotspots across the planet. Documented extensively in degraded mangrove belts across India, these decaying ecosystems speak volumes about a living vicious cycle of depredation that is the tale of 21st century globalization.

Shrouded in an uncanny silence, the haunting images capture the melancholia of a life come to an end. The crumbling, mouldering and decaying forms await inundation. The landscapes speak chronicles of past histories, politics, the environment and economics of consumption. Masked in a profound and unfathomable stillness, are they merely residues of past histories or are they manifestations of a dystopian nightmare, a cataclysmic decline, and an apocalyptic vision of the future?

The work becomes a site for contemplation and reflection, a ground where the mind stops between uncertainties.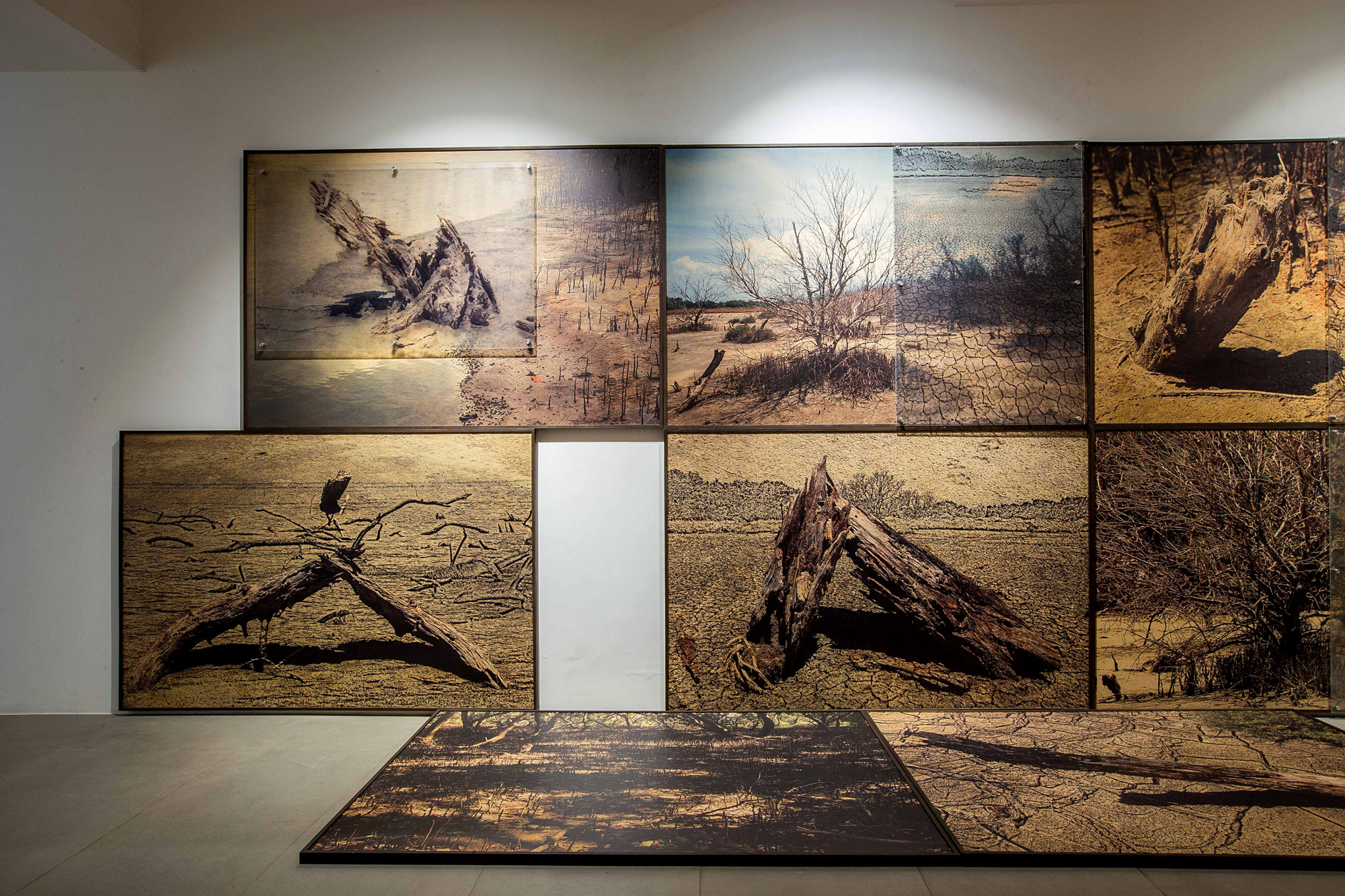 Installation view of Residue II, Exhibit 320, New Delhi
Sonia Mehra Chawla: 'Critical Membrane'
Ranjit Hoskote

'Critical Membrane' marks the current phase of Sonia Mehra Chawla's ongoing project, 'Scapelands', and her close engagement with the present and future of India's endangered mangrove systems. Spanning prints, photographs, video works and installations, this body of work addresses itself to the mangrove ecologies of India's Coromandel and Malabar coasts, located respectively in the states of Tamil Nadu and Kerala. The artist's exploration of these regions has been inspired by an awareness of impending ecological catastrophe. The mangroves, an osmotic border between land and sea, are under grave threat from direct human interference as well as the cataclysmic shifts in a natural world disordered by the long-term effects of technological activity. In Mehra Chawla's elegiac images of dying mangroves and shrinking wetlands, we find the chronicle of many deaths foretold.

'Critical Membrane' reminds us of the epochal costs that humankind must pay for its economic expansionism, a logic set in motion during the industrial revolution and supported by the contractarian ideology and extractive practices of global capital. As the philosopher Akeel Bilgrami has memorably phrased it, this paradigm has replaced nature with natural resources, communities with populations, and the knowledge to live by with an expertise to rule by. This instrumentalisation of our lifeworld follows from the industrialisation-era model of pitching humankind against nature. By contrast, research across a range of disciplines has encouraged us, with increasing urgency in recent decades, to embrace the understanding that we inhabit complex webs of stimulus and response, intervention and repercussion. We are bound together by interrelationships that require sensitive calibration but are treated, all too often, with shockingly callous and ultimately self-destructive disregard.

Suggestive of the fluid boundary between self and other, species and habitat, the title of Mehra Chawla's exhibition alerts us to the need to subject our visions of anthropocentric, nature-depletive development, to critique. The artist's practice combines a commitment to the processes of research and activism with a fidelity to the poetics of the artwork. In bearing witness to an unprecedented moment in the history of the planet, she brings together a variety of impulses, ranging from microscopic details of bacterial and microbial cultures to documentary cinematic studies of marginalised groups whose eco-sensitive occupations have suffered as a result of the decline in their environment. While I have argued, previously, that there is a strongly solitary, expeditionary quality to Sonia Mehra Chawla's projects, I would also draw attention to the equally vital collaborative and empathetic aspects of her work. Her thread through the labyrinth is woven together with the threads of other questors, other survivors, other celebrants of resistance.


Installation views of Residue II
Residue
An essay on the work by Bansie Vaswani

"The artist's immersive setting is constructed by hanging groups of large serigraphs and prints from the ceiling down to the floor. The viewer is surrounded by images of devastated mangrove forests that are traditionally home to a thriving community of varied species on the southeastern Indian coastline. Dark wooden stumps that look burned and parched dot the landscape. In her video, dead branches intertwined with stagnant weeds fill the marshland. The eerie forests, denuded by contaminated seawater from urban waste, and devoid of birds or any form of life, stand testament to a serious problem.

By covering many of the serigraphs with acrylic plexiglass on which she draws, Chawla creates the illusion of a built up surface and three-dimensionality. It's perceived proximity creates the effect of immediacy and draws the viewer in. One is strangely captivated by Chawla's images of the vast, dry, diamond shaped cracked earth on which the mangroves used to grow.

But unlike the Canadian photographer Edward Burtynsky's breathtaking aerial images of ravished landscapes, Chawla walks a fine line between environmental ethics and aesthetics. In her work, she transforms the spectral condition of a fallow uninhabitable landscape. Pieces of wood resemble organic sculpture, and the dried split up ground evokes a mosaic floor from a previous civilization. Yet at no point does one forget the purpose of her endeavor. Chawla's intention to bring the calamitous mangrove depletion to one's attention is paramount to her work. Hours of research with the MS Swaminathan Research Foundation in Chennai, and time spent with local people are evident from the ways in which the direst conditions are portrayed. One of the themes of the biennale is to draw attention to the cyclical nature of life. Birth, death, and rebirth of all living things have sustained communities for centuries. The success of Chawla's work lies in her ability to bring a sense of urgency to a disrupted natural order brought on by human defilement of the environment. As a consequence, she hopes to expose the danger of pollution, and hasten the implementation of new research to grow saplings that will survive in the current poor conditions of the Indian coastline." (Excerpts from a review-essay on 'Residue' by Bansie Vaswani, published in the British Art and Culture Magazine 'Aesthetica', September 2016)

Read full article here:
http://www.aestheticamagazine.com/yinchuan-biennale-2016/