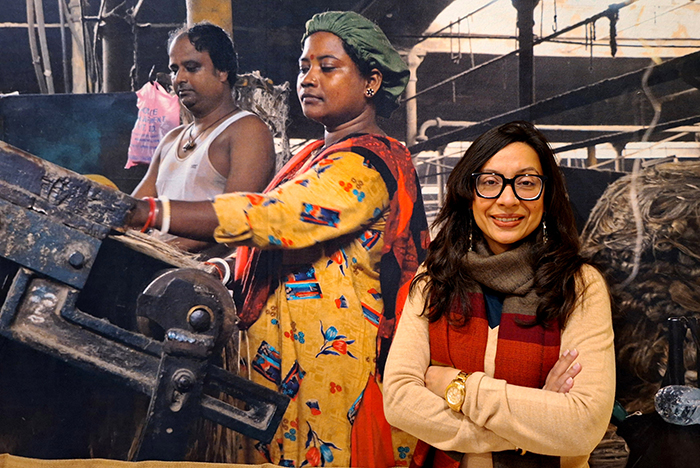 Sonia Mehra Chawla has a multidisciplinary practice as an artist, photographer, and researcher. Her artistic practice explores notions of selfhood, nature, ecology, sustainability and conservation. In her work, she uses a variety of media including photography, fine art printmaking, video, installation and painting.

Mehra Chawla's practice is process oriented and research based, with a focus on specific locations and micro histories. Through her artistic projects, she examines how local places contribute to global changes, what drives those changes, how these contributions change over time, how and where scale matters, what are the interactions between macro-structures and micro-agencies, and how efforts at mitigation and adaptation can be locally initiated and adopted.

The current and ongoing phases of her practice mark her close engagement with the present and future of India's coastal agriculture, and coastal and mangrove ecosystems. The artist's practice combines a commitment to the processes of research with a fidelity to the poetics of the artwork. Her work brings together a variety of impulses, ranging from microscopic details of bacterial and microbial cultures to documentary cinematic studies of marginalized groups whose Eco-sensitive occupations have suffered as a result of the decline in their environment.

The artist's work is often a result of sustained collaborations with scientific institutions, research institutions, Non Profit Organizations and Trusts in India, as well as interactions with fishing communities, farming and agricultural communities, tribal and indigenous people of India.

Through her practice, Mehra Chawla explores, dissects, re-examines and re-envisions spaces that exist at the intersections of art and science, social and natural realms, self and the other, focusing on the important dimensions of human engagement with and within nature, ranging from the built-environment to the 'wilderness', and human and non-human narratives and interrelations in the Anthropocene.

The artist lives and works in New Delhi, India.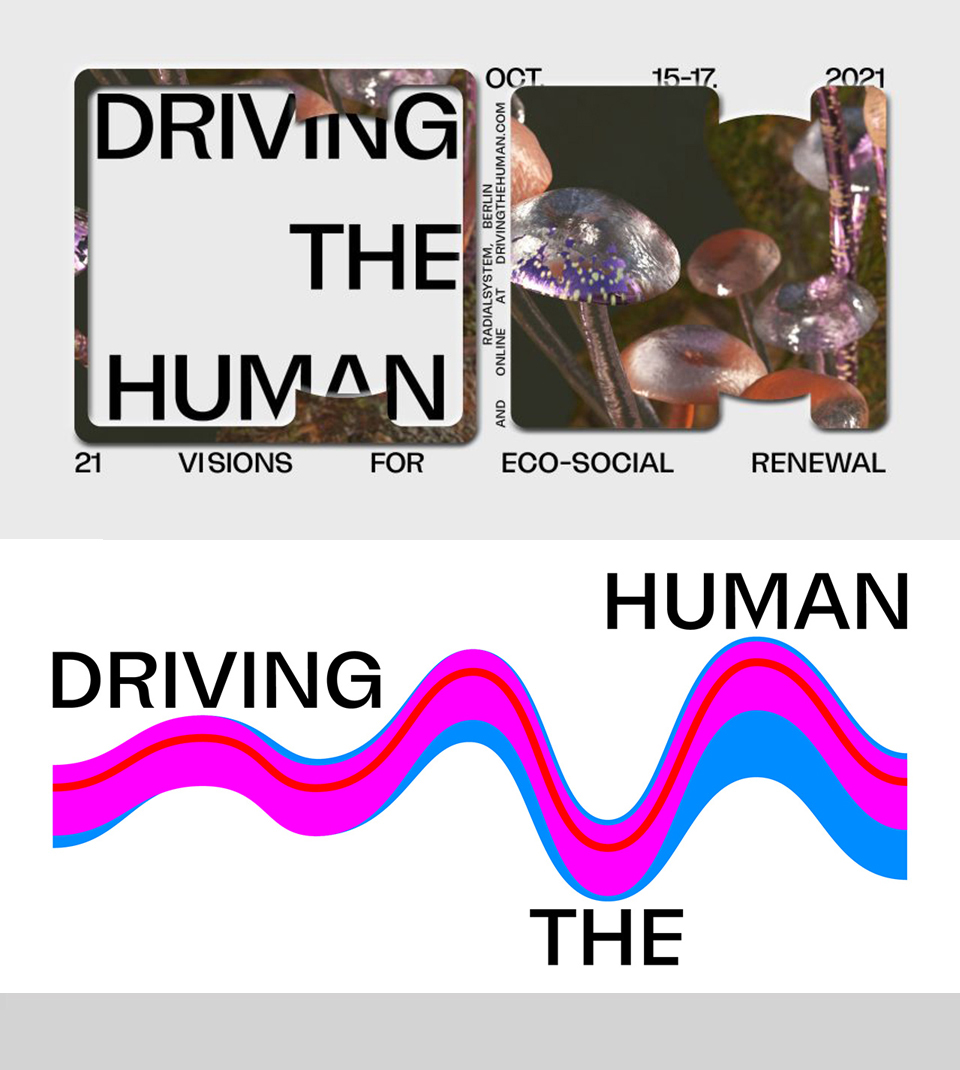 'THE ROOTED SEA: HALOPHYTIC FUTURES', A NEW INDIA & UK PARTNERSHIP PROJECT LED BY SONIA MEHRA CHAWLA, WILL BE LAUNCHED AT THE MEGA ART, SCIENCE & TECHNOLOGY EXHIBITION 'DRIVING THE HUMAN' AT RADIALSYSTEM, BERLIN. DRIVING THE HUMAN IS LED BY ZKM |MUSEUM & CENTER FOR ART AND MEDIA, FORECAST BERLIN, KARLSRUHE UNIVERSITY OF ARTS & DESIGN AND ACATECH-NATIONAL ACADEMY OF SCIENCE & ENGINEERING GERMANY.


'The Rooted Sea: Halophytic Futures' is an interdisciplinary inquiry into the fragile and endangered coastal ecosystems and wetland habitats of India and Scotland. The project is led by multidisciplinary artist Sonia Mehra Chawla and Miriam Walsh (Director, ASCUS Art & Science) in collaboration with Ray Interactive UK. Hosted by Forecast at Radialsystem in Berlin, Driving the Human: 21 Visions for Eco-social Renewal exhibition and festival proposed a varied array of formats. Through immersive experiences and interactive installations; focused readings and embodied knowledge; Riveting screenings and stimulating performances, the festival advanced proposals for some of the most pressing issues of our time.
'Driving the Human' is jointly led by acatech - National Academy of Science and Engineering, Forecast, the Karlsruhe University of Arts and Design, and ZKM | Center for Art and Media Karlsruhe. Driving the Human is supported by the Federal Ministry for the Environment, Nature Conservation and Nuclear Safety, based on a decision of the German Bundestag.
View the project concept here:
(Click here)
View the Festival here:
(Click here)
Preview and Launch: October 15, 2021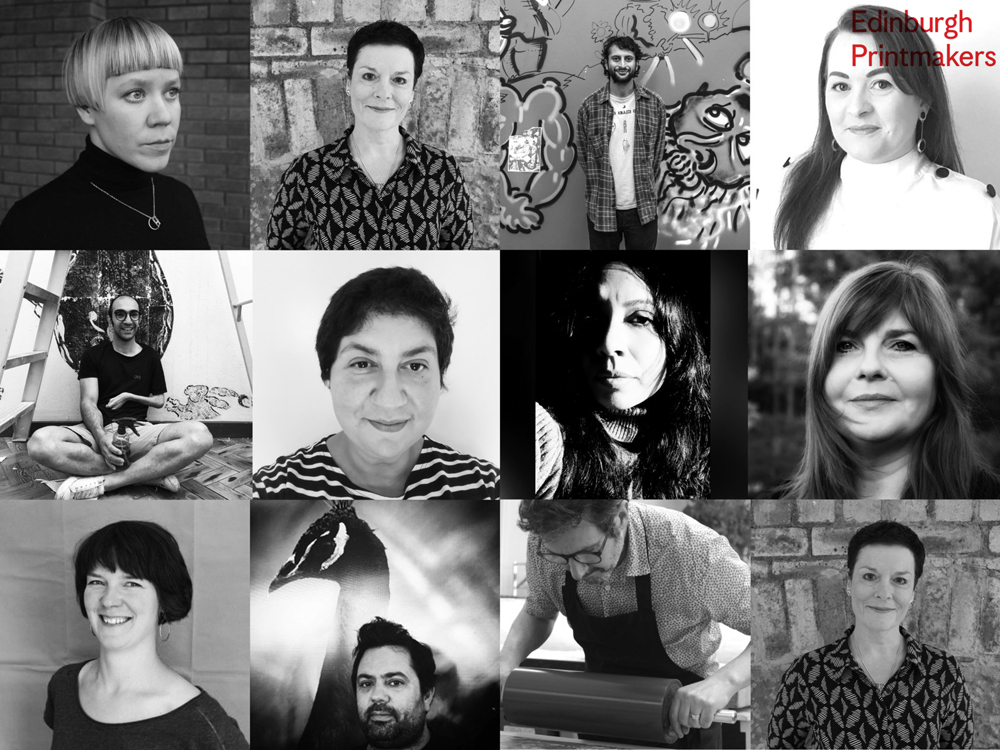 EDINBURGH PRINTMAKERS EVENT SERIES 'THE ART OF PRINTMAKING' BRINGS TOGETHER INTERNATIONAL ARTISTS WITH SOME OF UK'S MOST EXPERIENCED CURATORS & CREATIVE PRODUCERS. SONIA MEHRA CHAWLA WILL BE IN CONVERSATION WITH EMMA NICOLSON, HEAD OF CREATIVE PROGRAMMES AT THE ROYAL BOTANIC GARDENS EDINBURGH.


A series of online conversations, each artist will discuss the impetus for their work and the technical production processes underpinning the printing of the works at Edinburgh Printmakers studio at Castle Mills. They will reflect on the role of printmaking within their exhibition and wider practice in dialogue with some of UK's most experienced curators and producers and Edinburgh Printmaker's newly appointed chief executive Janet Archer.
The fourth instalment of the series The Art of Printmaking features multidisciplinary artist Sonia Mehra Chawla in conversation with Emma Nicolson, Head of Creative Programmes at the Royal Botanic Gardens, Edinburgh and Founder of Climate House, a collaboration with the Serpentine Galleries, London.
Sonia Mehra Chawla's exhibition 'Entanglements of Time and Tide' is showing at Castle Mills until November 2021.
Date: October 27, 2021
Watch the recording here:
(Click here)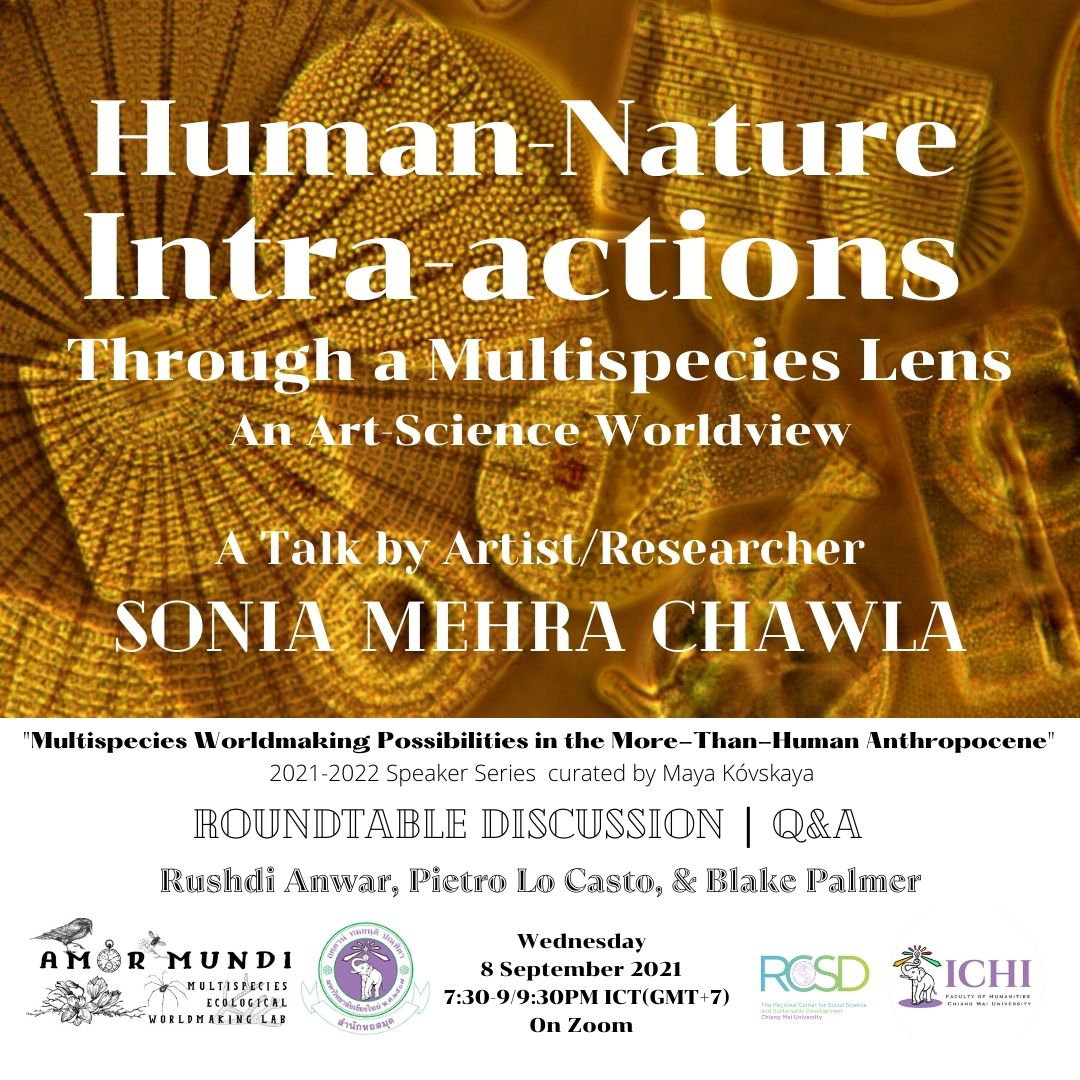 ARTISTS TALK BY SONIA MEHRA CHAWLA FOR AMOR MUNDI MULTISPECIES ECOLOGICAL WORLDMAKING LAB, CURATED BY ECOLOGICAL POLITICAL THEORIST & CURATOR DR MAYA KOVSKAYA & HOSTED BY CHIANG MAI UNIVERSITY, THAILAND


AMOR MUNDI Multispecies Ecological Worldmaking Lab's "Multispecies Worldmaking Possibilities in the More-Than-Human Anthropocene" Speaker Series 2021-2022 presents: 'Human-Nature Intra-actions through a Multispecies Lens: An Art-Science Worldview' by multidisciplinary artist and researcher Sonia Mehra Chawla. The talk will be followed by a lively roundtable discussion with curator Maya Kovskaya and co-discussants for the evening: Ajarn Rushdi Anwar, Pietro Lo Casto, and cultural critic Blake Palmer, as well as audience Q&A.
The AMOR MUNDI Multispecies Ecological Worldmaking Lab is an intersectional multidisciplinary research initiative in the Global South, bringing from disciplines including ecophilosophy, animal and critical life studies, geography, anthropology, political and social science, arts & humanities, together with scholars in the natural sciences into research collaborations investigating how human and more-than-human worldmaking are mutually entangled, fostering symbiopoesis through cross-disciplinary approaches, joint publications, workshops, art/science exhibitions, and pedagogy.
Date: 8 September 2021, 7.30 to 9.30 PM (ICT) INDOCHINA TIME
Watch the recording here:
(Click here)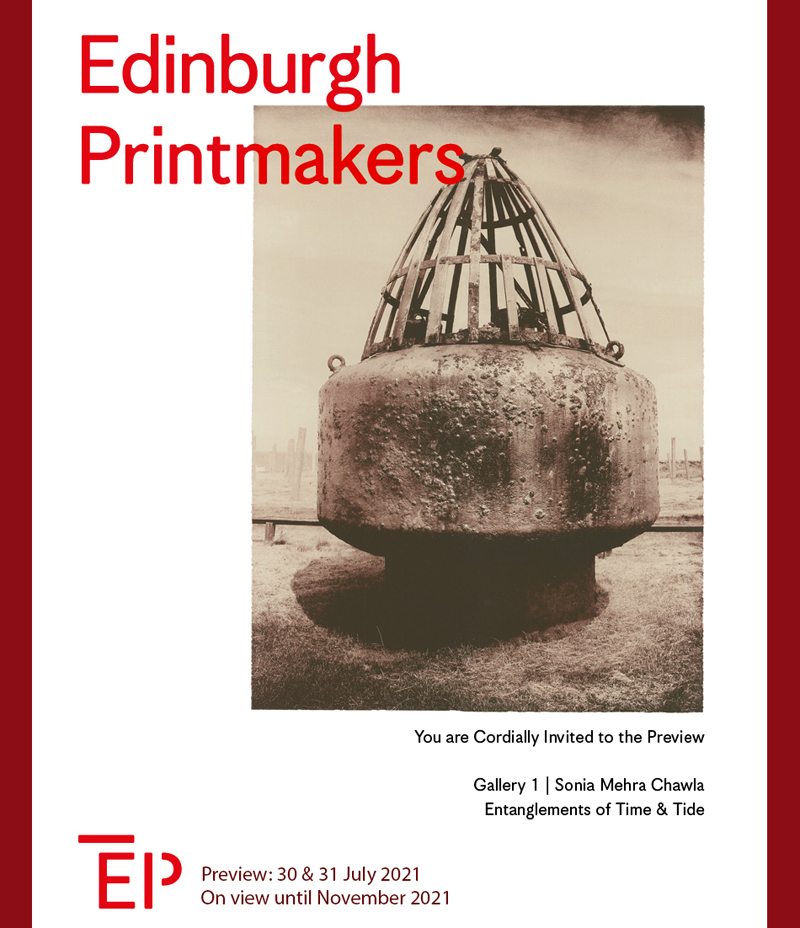 SONIA MEHRA CHAWLA'S DEBUT UK INSTITUTIONAL SOLO EXHIBITION AND MAJOR UK COMMISSION WILL BE ON VIEW AT EDINBURGH PRINTMAKERS, CASTLE MILLS AS PART OF EDINBURGH ART FESTIVAL 2021. THE EXHIBITION IS IN COLLABORATION WITH MARINE SCOTLAND & ASCUS ART & SCIENCE. ON VIEW FROM AUGUST TO NOVEMBER 2021.


Sonia Mehra Chawla's debut UK Institutional solo exhibition and major UK commission will open to the public on August 4, 2021 at Edinburgh Printmakers, Scotland as part of Edinburgh Art Festival 2021. 'Entanglements of Time & Tide' is an artistic engagement with the North Sea/Atlantic Ocean and its coastal and marine ecosystems. This project is the result of a three-year period of research in Scotland, facilitated by Edinburgh Printmakers in collaboration with Marine Scotland, Marine Laboratory of the Scottish Government in Aberdeen and ASCUS Art & Science. The project is further supported by Creative Scotland, Edinburgh City Council and Edinburgh Science Festival 2021.
Working at the intersection of art, science and technology, exploring entanglements of ecology, industry, culture, politics and aesthetics, the body of work includes new print commissions along with films, 'living' systems, archival scientific materials and historical objects. The exhibition is on view (on-site) at Edinburgh Printmakers new home and glorious gallery in Castle Mills, a beautiful heritage building, formerly the headquarters for the North British Rubber Company, and once the city's largest industrial operation within the British Empire.
Viewing Room, Edinburgh Printmakers:
(Click here)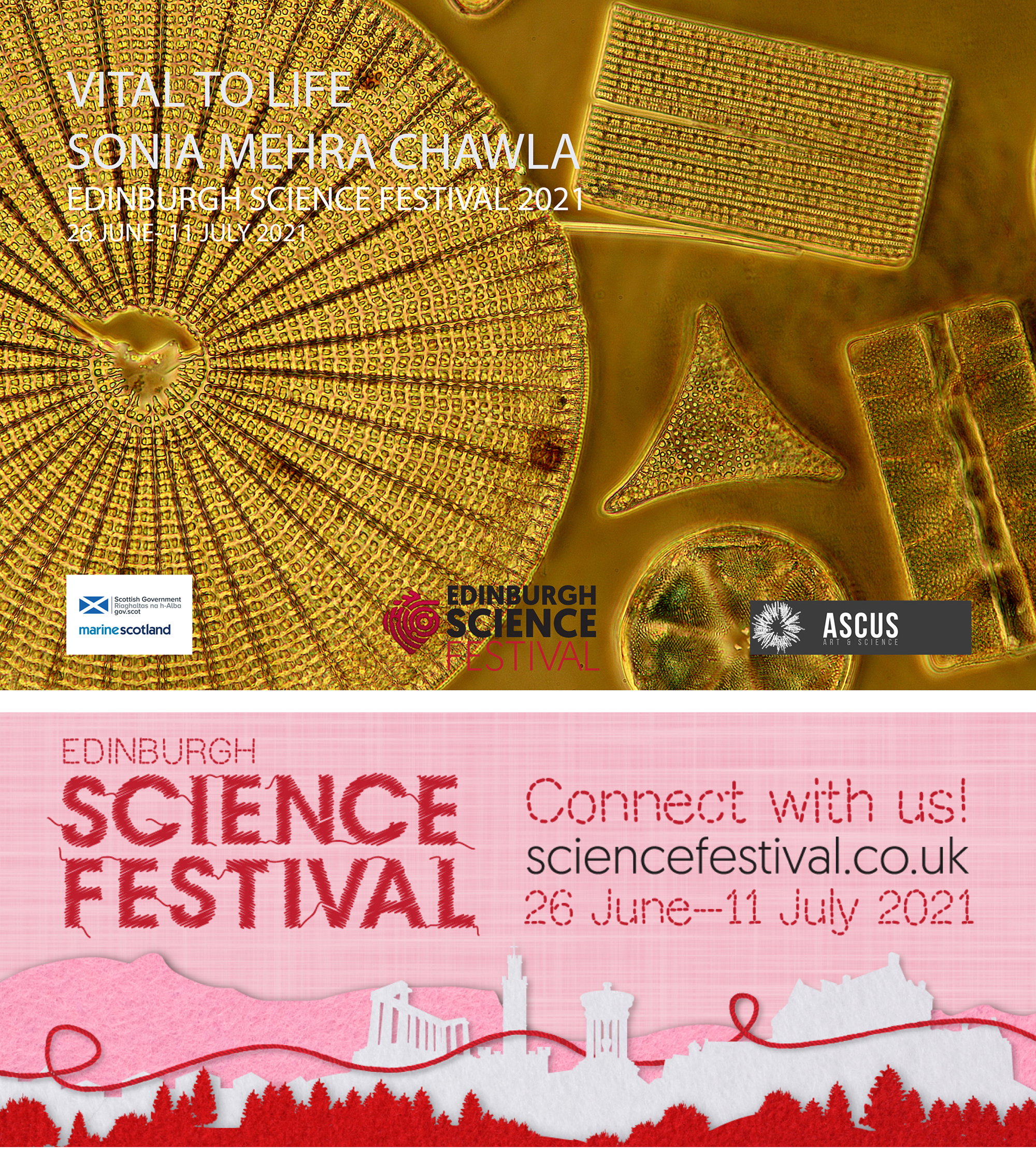 SONIA MEHRA CHAWLA IS PART OF THE 2021 EDITION OF EDINBURGH SCIENCE FESTIVAL WITH THE THEME 'ONE WORLD: SCIENCE CONNECTS US'. HER PARTICIPATION INCLUDES THE UK PREMIERE OF TWO FILMS AND A SOLO EXHIBITION OF PHOTOGRAPHS (VIRTUAL) PRESENTED BY ASCUS ART & SCIENCE IN COLLABORATION WITH MARINE SCOTLAND.


Sonia Mehra Chawla will be part of the 2021 edition of Edinburgh Science Festival, with the theme of 'One World: Science Connects Us'. Mehra Chawla's participation includes the UK premiere of her recent films 'The Non-Human Touch' and 'Vital to Life: Plankton Chronicles' and a solo exhibition (virtual) of photomicrographs and prints, presented by ASCUS Art & Science, Edinburgh in collaboration with Marine Scotland. The body of works will explore and reimagine an oceanic world-view of entangled histories and symbiotic relationships in the North Sea and Atlantic Ocean.
In addition, as part of the Science Festival programming, Mehra Chawla will be part of two live webinars on 30th June and 2nd July 2021, where she will present her work and research in the UK over the past three years, followed by conversations with the curator of the exhibition, Miriam Walsh (ASCUS Art & Science, Managing Director) and Dr. Prof. Colin Moffat (Chief Scientific Advisor Marine to the Scottish Government & Professor of Analytical & Environmental Chemistry at Robert Gordon University.) Each event will be followed by a live Q&A.
Exhibition online viewing room:
https://www.ascus.org.uk/entanglements-of-time-and-tide-2021-edinburgh/
Edinburgh Science Festival webinar & film screening of 'The Non Human Touch':
https://www.ascus.org.uk/entanglements-of-time-and-tide-the-non-human-touch/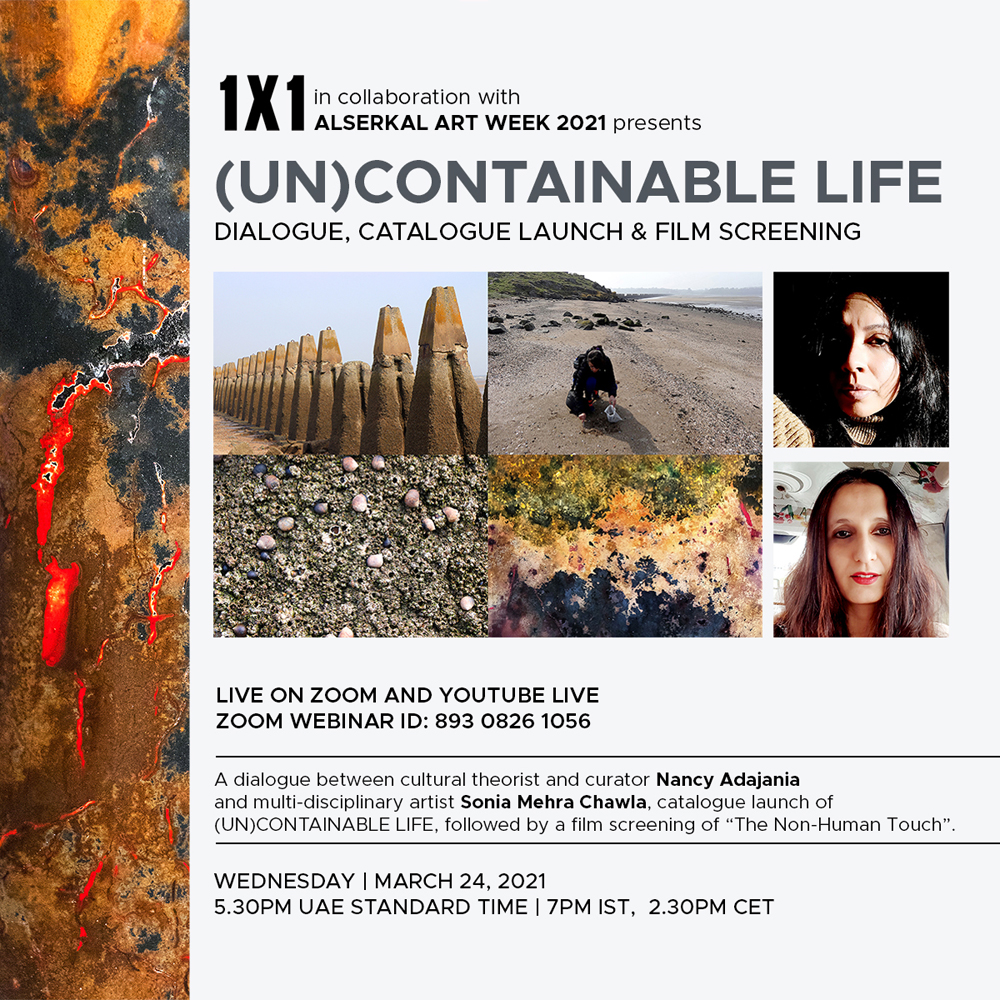 WEBINAR: NANCY ADAJANIA IN DIALOGUE WITH SONIA MEHRA CHAWLA, CATALOGUE LAUNCH OF '(UN)CONTAINABLE LIFE' AND FILM SCREENING OF 'THE NON HUMAN TOUCH'.
PRESENTED BY 1X1 ART GALLERY, DUBAI, IN COLLABORATION WITH ALSERKAL ART WEEK 2021.


View the webinar recording here: (click here)
Join us on Wednesday, March 24, 2021 at 5.30pm UAE Time, 7pm IST, 2.30pm CET, for an exclusive live conversation between cultural theorist and curator Nancy Adajania and multi-disciplinary artist Sonia Mehra Chawla on the occasion of the e-catalogue launch of '(UN)Containable Life', a major exhibition of the artist in the UAE spanning nearly a decade of work across disciplines. The exhibition catalogue features a comprehensive lead essay by Nancy Adajania. The event will be followed by a screening of Sonia Mehra Chawla's latest film 'The Non-Human Touch: What Values Can Emerge from Ruined Landscape'. The film is the result of a two-year collaboration with ASCUS Art & Science, Edinburgh and Marine Scotland.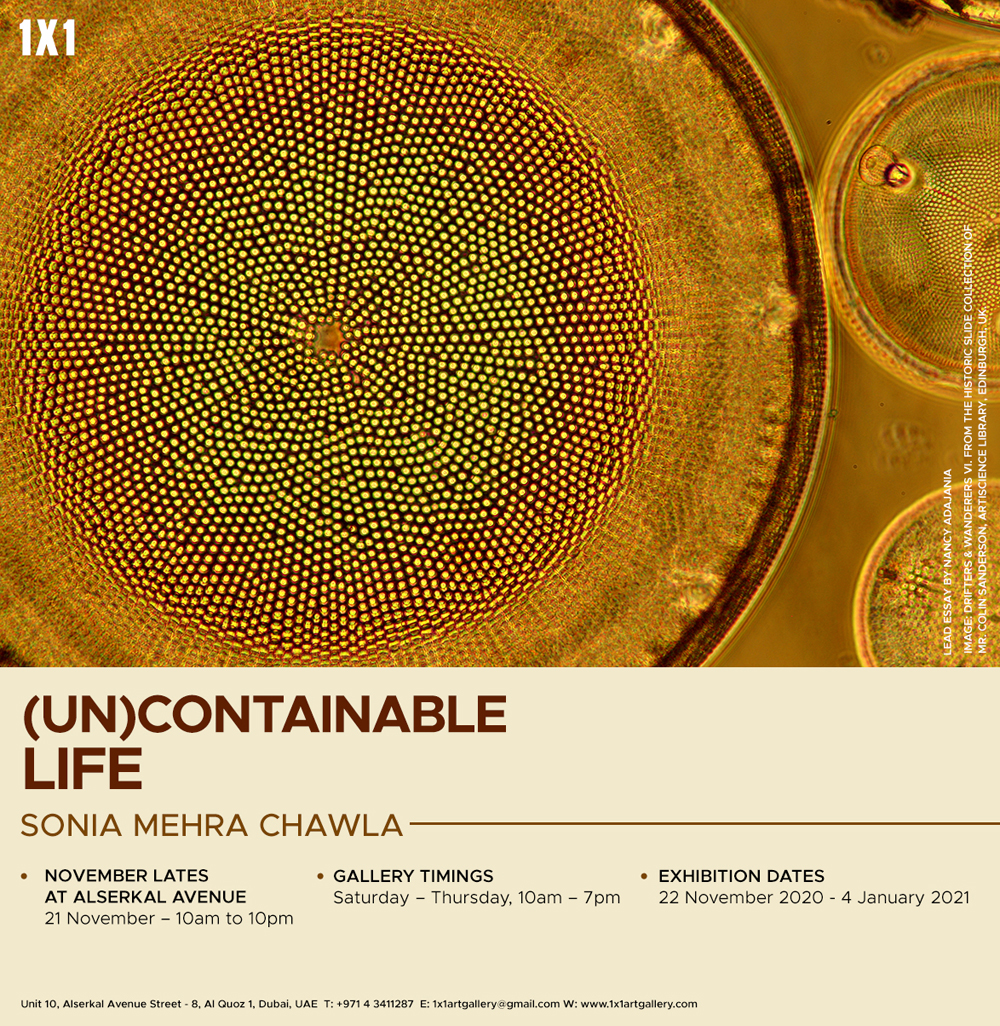 (UN)CONTAINABLE LIFE, A COMPREHENSIVE SOLO PROJECT BY SONIA MEHRA CHAWLA AT 1X1 ART GALLERY, DUBAI, UAE, PRESENTS A CROSS SECTION OF THE ARTISTS WORK FROM 2013 TO 2020.


Sonia Mehra Chawla will show a selection of her works at 1x1 Art Gallery, Dubai. These works zigzag across the mediums of photography, printmaking, painting and film. The exhibition title, '(Un)Containable Life', makes deft use of the parenthesis: it deconstructs the extractivist modes of controlling human and non-human lives in the age of the 'Capitalocene' (in Jason Moore's phrase). Framed in the form of a mini-retrospective, this exhibition is a prayer against the relentless destruction of the planet. It offers us a substantial account of the artist's journey so far. (Extracts from Nancy Adajania's essay)
The exhibition is on view from November 21, 2020 to January 10, 2021, and is accompanied by a comprehensive catalog with a lead essay by Nancy Adajania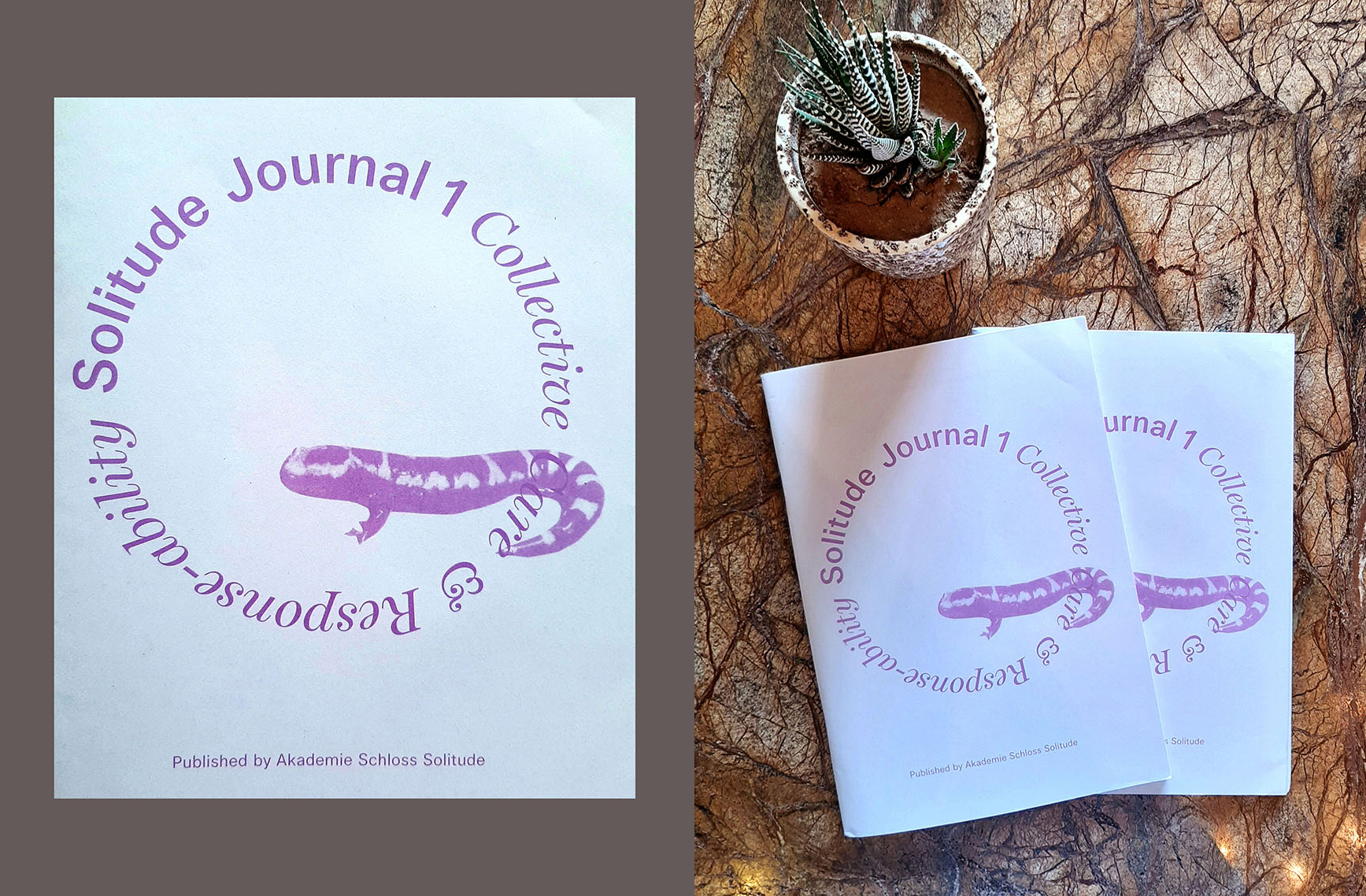 AKADEMIE SCHLOSS SOLITUDE'S RECENT PUBLICATION WITH THE THEME 'COLLECTIVE CARE & RESPONSE-ABILITY' FEATURES A NARRATIVE ESSAY BY SONIA MEHRA CHAWLA, 'THE NON HUMAN TOUCH'.


Akademie Schloss Solitude's recent publication, the first Solitude Journal with the theme 'Collective Care & Response-ability', features artistic works and critical writings from across the globe in which the political, social and ethical dimensions of care and concern between humans, non-humans, other species and the material world converge.
The publication includes an essay contribution by Sonia Mehra Chawla, 'The Non-Human Touch: What Values Can Emerge from Ruined Landscape?'
https://www.akademie-solitude.de/en/project/solitude-journal-en/solitude-journal-1-en/
'COLLECTIVE CARE & RESPONSE-ABILITY'
SOLITUDE JOURNAL 01
AKADEMIE SCHLOSS SOLITUDE, GERMANY
OCTOBER 2020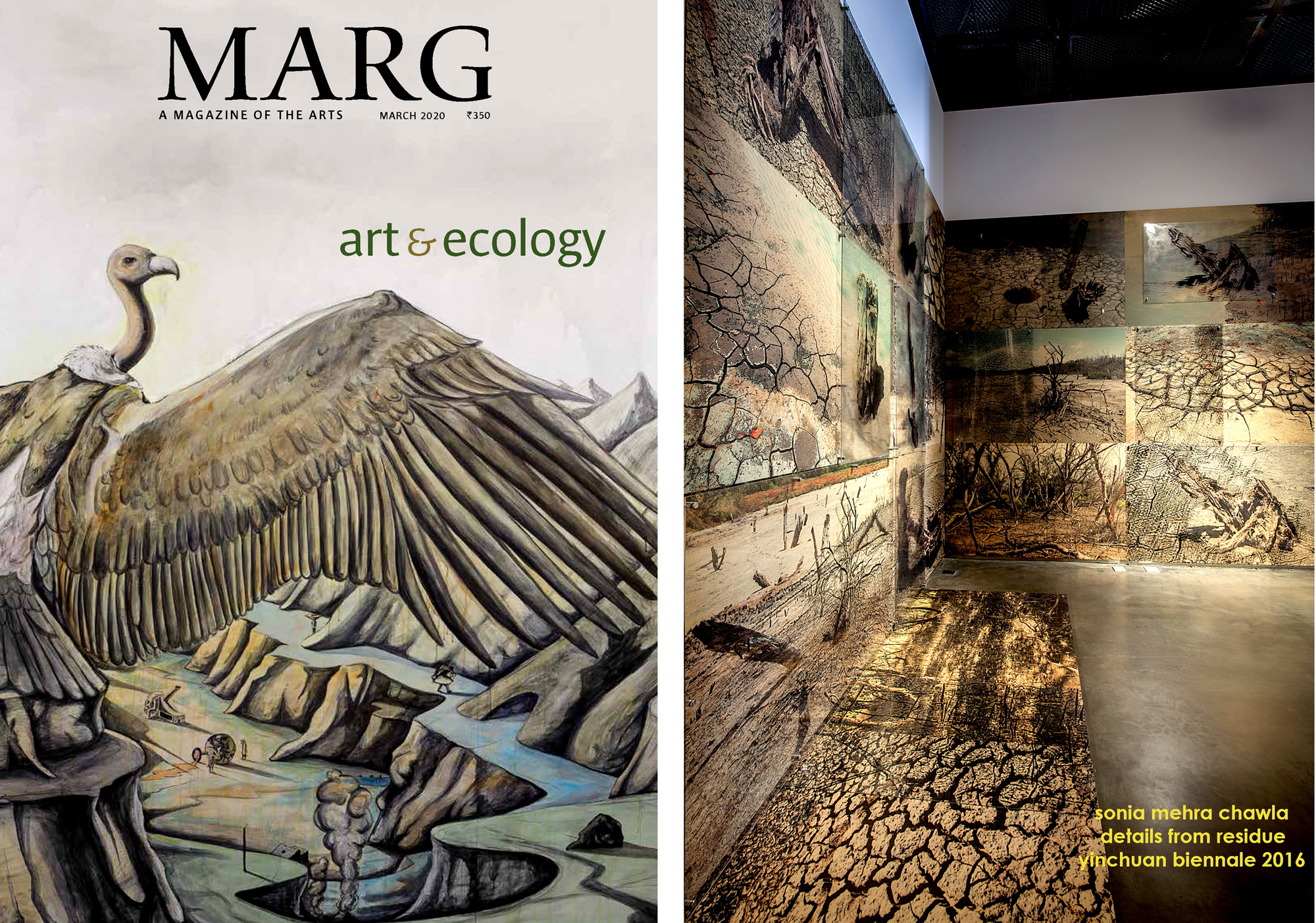 MARG'S LATEST PUBLICATION ON ART & ECOLOGY FEATURES SONIA MEHRA CHAWLA'S ARTISTIC ENGAGEMENT WITH ECOLOGY. CULTURAL THEORIST AND CURATOR MAYA KOVSKAYA WRITES ABOUT MEHRA CHAWLA'S ONGOING PROJECTS IN HER COMPREHENSIVE ESSAY 'SOLASTALGIA, THE ANTHROPOCENE IN INDIAN CONTEMPORARY ART'.


Sonia Mehra Chawla's work from her 'Critical Membrane' and 'Salt Lab' series has been featured in Marg's latest publication on Art & Ecology, edited by Ravi Agarwal and Latika Gupta.
'The severe climate crisis threatens to cripple our collective futures and it is now more important than ever to explore counter-narratives from the Global South that include perspectives on gender, class, caste, labour, ritual and mythology; all lenses through which India has been engaging with ecology.'
In her comprehensive essay 'Solastalgia, the Anthropocene, and Indian Contemporary Art', art theorist and curator Maya Kovskaya explores a range of artistic engagements with ecology by eminent cultural practitioners who have been addressing these urgent issues through individual and community-led practices in photography, video, site-specific installations and sound art. The essay features the works of Sheba Chhachhi, Ravi Agarwal, Amar Kanwar, Sonia Mehra Chawla, Desire Machine Collective, Shweta Bhattad and Tushar Joag.
MARG
ART & ECOLOGY,
Vol.71, No. III, MARCH 2020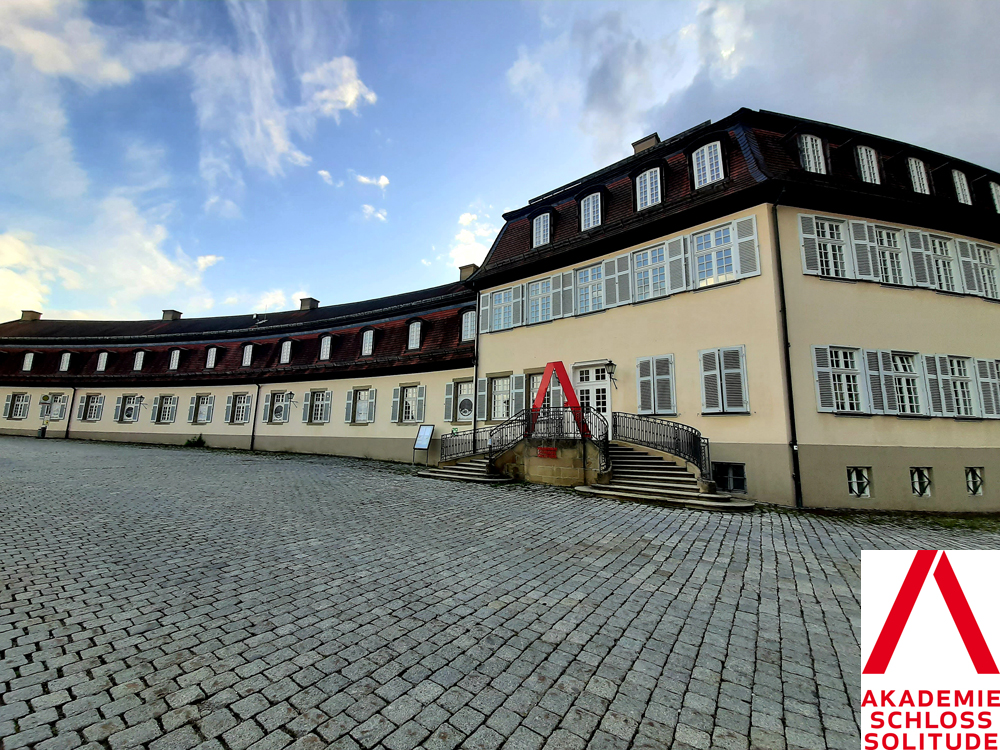 SONIA MEHRA CHAWLA HAS BEEN AWARDED AN INTERNATIONAL FELLOWSHIP AND RESIDENCY BY AKADEMIE SCHLOSS SOLITUDE, GERMANY FOR 2019-2020. THE FELLOWSHIP IS AWARDED FOR THE ART, SCIENCE & BUSINESS PROGRAM.
Sonia Mehra Chawla has been awarded an International Fellowship in the area of Social Sciences from the Akademie Schloss Solitude in Germany. She has been invited to the Akademie for a long term research-based project and International Artists' residency (2019-2020) in the Art, Science, and Business program of the Akademie Schloss Solitude.
The Akademie Schloss Solitude is housed in the palace complex of the breathtakingly beautiful Solitude Palace.
'The program art, science & business pursues the goal of promoting dialogue between art, science and business. It was developed in 2002 from the idea that the fields of art, science and business need not be understood as separate, but as complementary activities. Their representatives often deal - in addition to all the divergence and necessary autonomy of the disciplines - with the same questions, which, however, they pose in different ways and process with divergent methods.'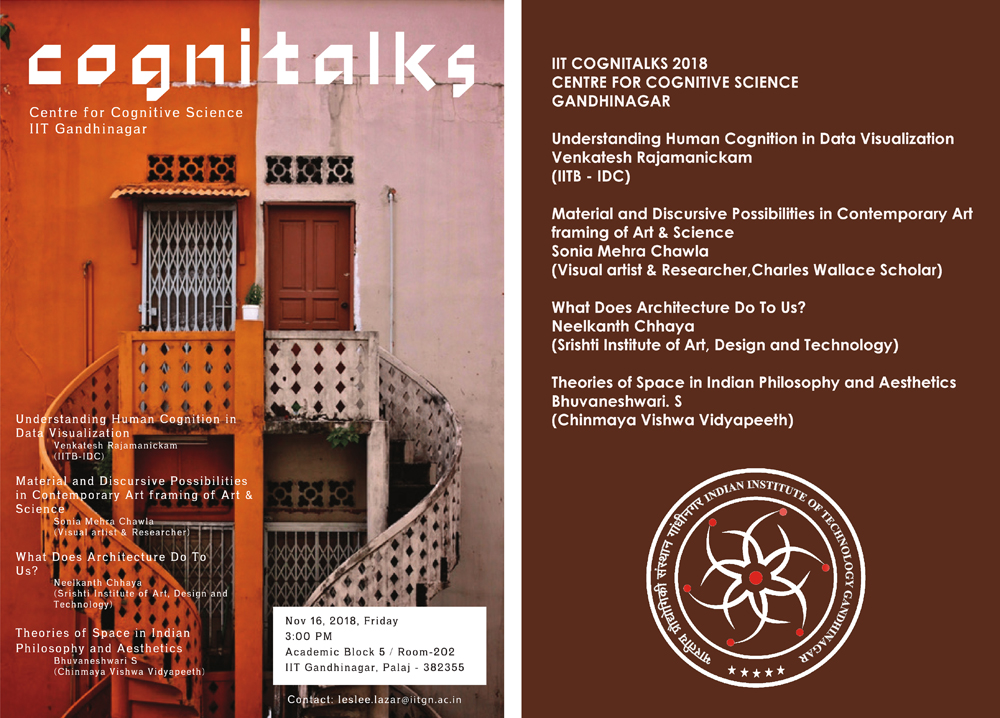 SONIA MEHRA CHAWLA HAS BEEN INVITED TO DELIVER A LECTURE PRESENTATION AT IIT COGNITALKS 2018, THE ANNUAL SEMINAR OF INDIAN INSTITUTE OF TECHNOLOGY, INDIA.

COGNITALKS 2018
ANNUAL SEMINAR, ORGANIZED BY CENTRE FOR COGNITIVE AND BRAIN SCIENCES
INDIAN INSTITUTE OF TECHNOLOGY, IIT GANDHINAGAR, INDIA
Sonia Mehra Chawla has been invited to deliver a lecture presentation at IIT Cognitalks 2018. Cognitalks is a part of Indian Institute of Technology's Annual Seminar, organized by Centre for Cognitive and Brain Sciences, IIT Gandhinagar, India. Mehra Chawla's presentation is titled 'Material and Discursive Possibilities in the Contemporary Art Framing of Art & Science'.
'Insights about human cognition are increasingly influencing modern science, art and design. New technologies are beginning to incorporate principles of how we perceive the world, learn and remember information, make decisions and interact with the environment. We believe in expanding our knowledge about cognitive science by incorporating ideas from different disciplines.
Through this event, we aim to provide a platform for interaction between experts studying human cognition from different perspectives. This year, we have invited an eclectic group of experts to engage in a discussion.'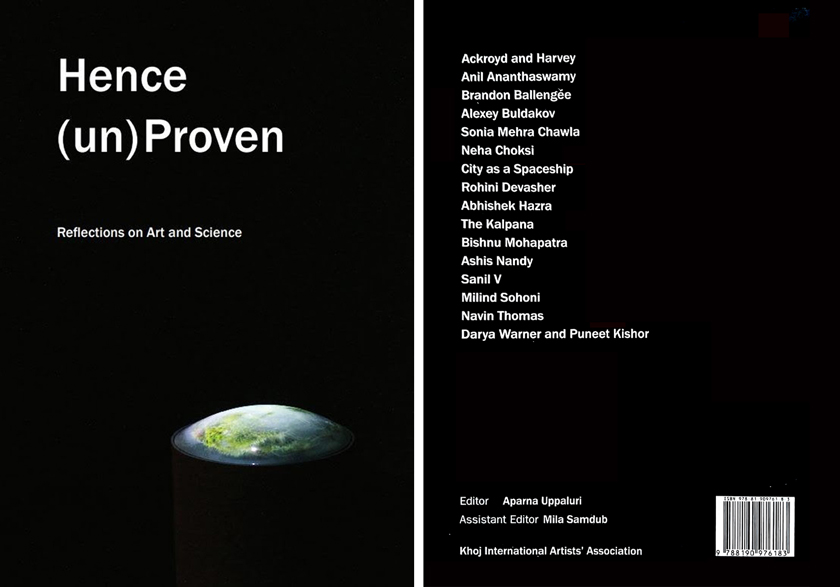 HENCE (UN) PROVEN
REFLECTIONS ON ART AND SCIENCE

Looking back over 10 years of Art and Science programmes at Khoj, the latest publication Hence (un)Proven pulls together talk transcripts, interviews, critical writing and artist concept notes. The first in a series of publications, this book has been edited by Aparna Uppaluri and assistant edited by Mila Samdub.

Sonia Mehra Chawla is a Fellow of the Art & Science program instituted by Khoj International Artists' Association and Wellcome Trust UK/ DBT India Alliance. She was a part of the third edition of the Art & Science International Residency 'The Undivided Mind' in 2018. The publication features her research based project 'The Salt Lab'.

Published by Khoj International Artists' Association, India. Edited by Aparna Uppaluri.
Supported by Wellcome Trust UK / DBT India Alliance.


2018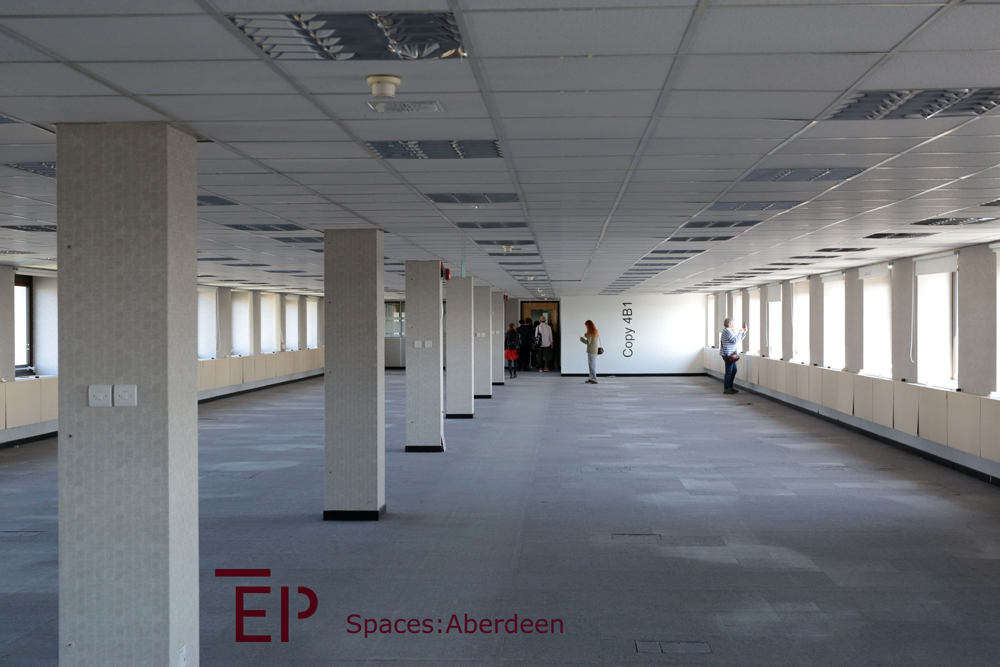 RESEARCH RESIDENCY, EP SPACES, ABERDEEN
EDINBURGH PRINTMAKERS, SCOTLAND 2018
Sonia Mehra Chawla will undertake the research arm of her artistic residency at EP Spaces Aberdeen, in Summer, 2018.
The research residency in 2018 is part of a long-term project with Edingburgh Printmakers Scotland. (2018-2020) Supported by Creative Scotland.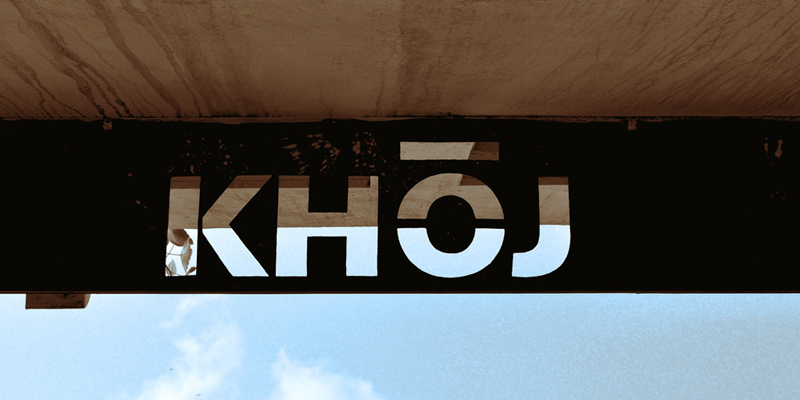 SONIA MEHRA CHAWLA IS THE RECIPIENT OF THE ART+ SCIENCE GRANT AWARD 2017-18 INSTITUTED BY KHOJ INTERNATIONAL ARTISTS' ASSOCIATION INDIA, SUPPORTED BY THE WELLCOME TRUST UK & DBT INDIA ALLIANCE.
Sonia Mehra Chawla has been selected for the International Art+Science Grant Award 2017-2018 instituted by Khoj International Artists' Association and supported by the Wellcome Trust UK/ DBT India (Dept. of Biotechnology, India) Alliance.
The Art + Science programme is designed to advance projects that explore artistic applications of emerging thoughts and technologies with the help of partners from the scientific industry and academia.This year the Art + Science programme will engage emerging themes around science and technology.
The Grant includes a project research and development phase (2017-18), an International Artists' Residency, an exhibition/open studio and a related seminar in 2018.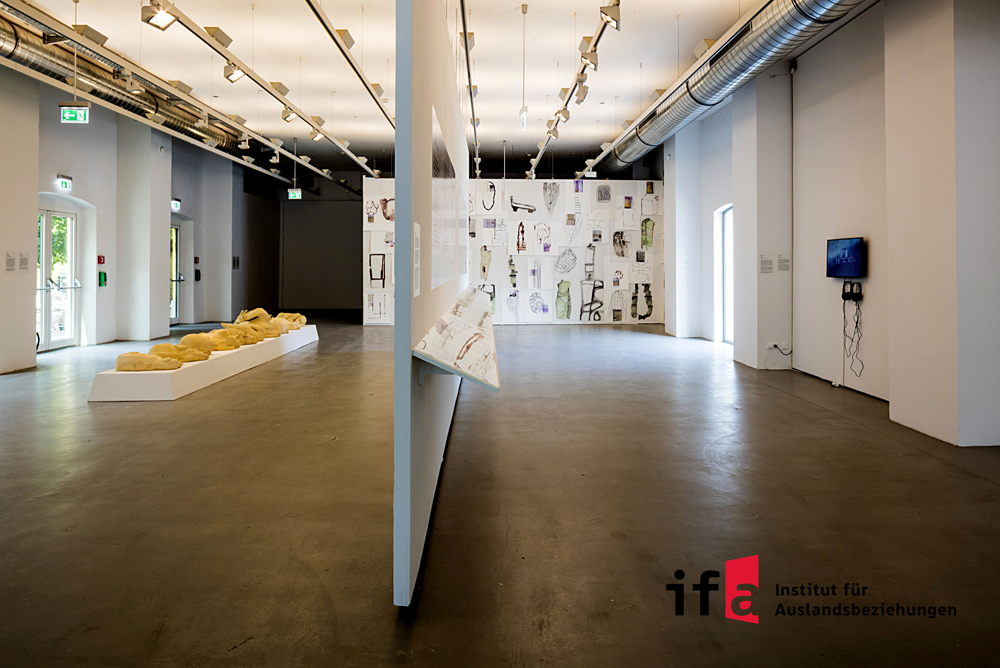 EIN WELT IN DER STADT: ZOOLOGISCHE UND BOTANISCHE GARTEN
'A WORLD IN THE CITY: ZOOLOGICAL AND BOTANIC GARDENS'
CURATED BY KAIWAN MEHTA
INSTITUT FUR AUSLANDSBEZIEHUNGEN
INSTITUTE FOR FOREIGN CULTURAL RELATIONS, IFA
STUTTGART, GERMANY
MAY - JULY
2017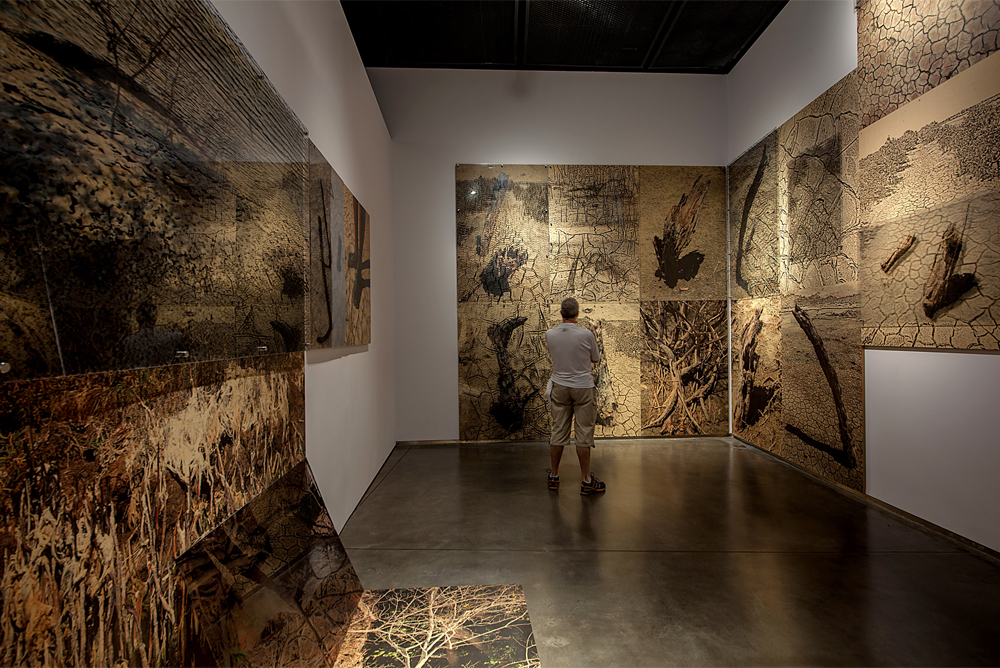 RESIDUE
IMMERSIVE INSTALLATION AT YINCHUAN BIENNALE 2016
CURATED BY BOSE KRISHNAMACHARI
YINCHUAN BIENNALE 2016
FOR AN IMAGE, FASTER THAN LIGHT
MUSEUM OF CONTEMPORARY ART, YINCHUAN
CHINA
2016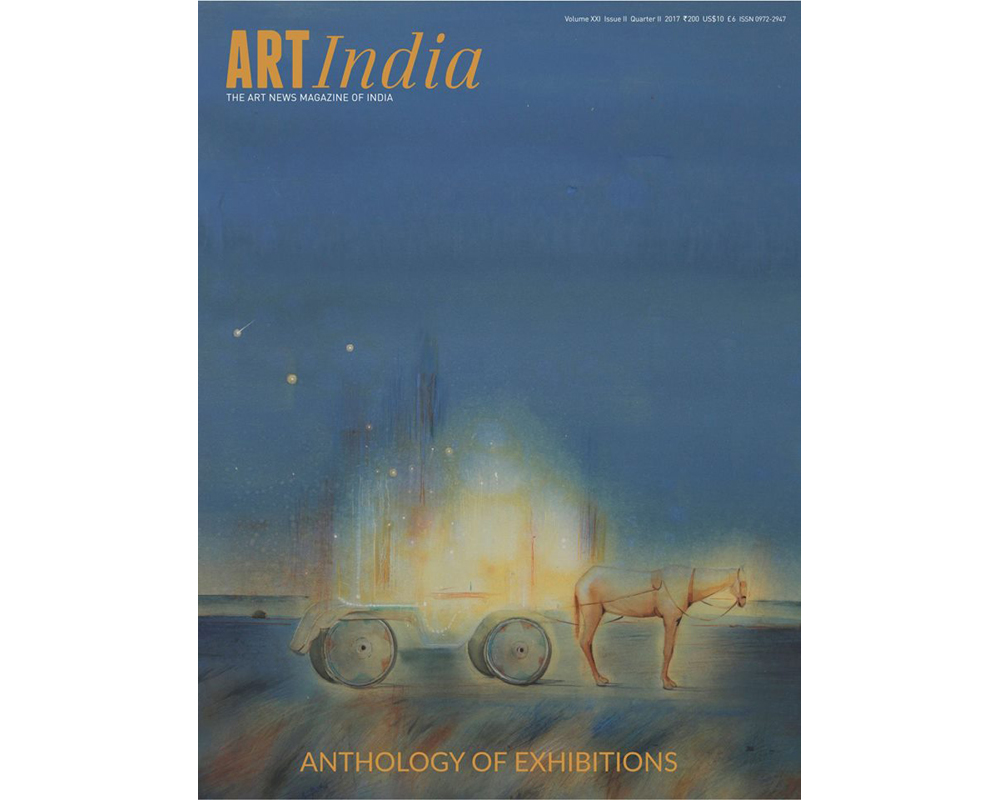 WASTE LANDS
MEERA MENEZES WRITES ABOUT SONIA MEHRA CHAWLA'S RECENT WORK FROM THE CRITICAL MEMBRANE SERIES THAT WAS SHOWCASED AT THE YINCHUAN BIENNALE IN CHINA IN 2016, AND IN A SOLO PRESENTATION OF HER WORK AT NEW DELHI'S EXHIBIT 320 IN 2017.
ART INDIA- 'ANTHOLOGY OF EXHIBITIONS' ,VOL XXI, ISSUE II, 2017
PUBLISHED BY ART INDIA PUBLISHING COMPANY PVT LTD